Three advantages of investing in green bonds were revealed
AIFC Green Finance Centre
28 June 2022 00:00:00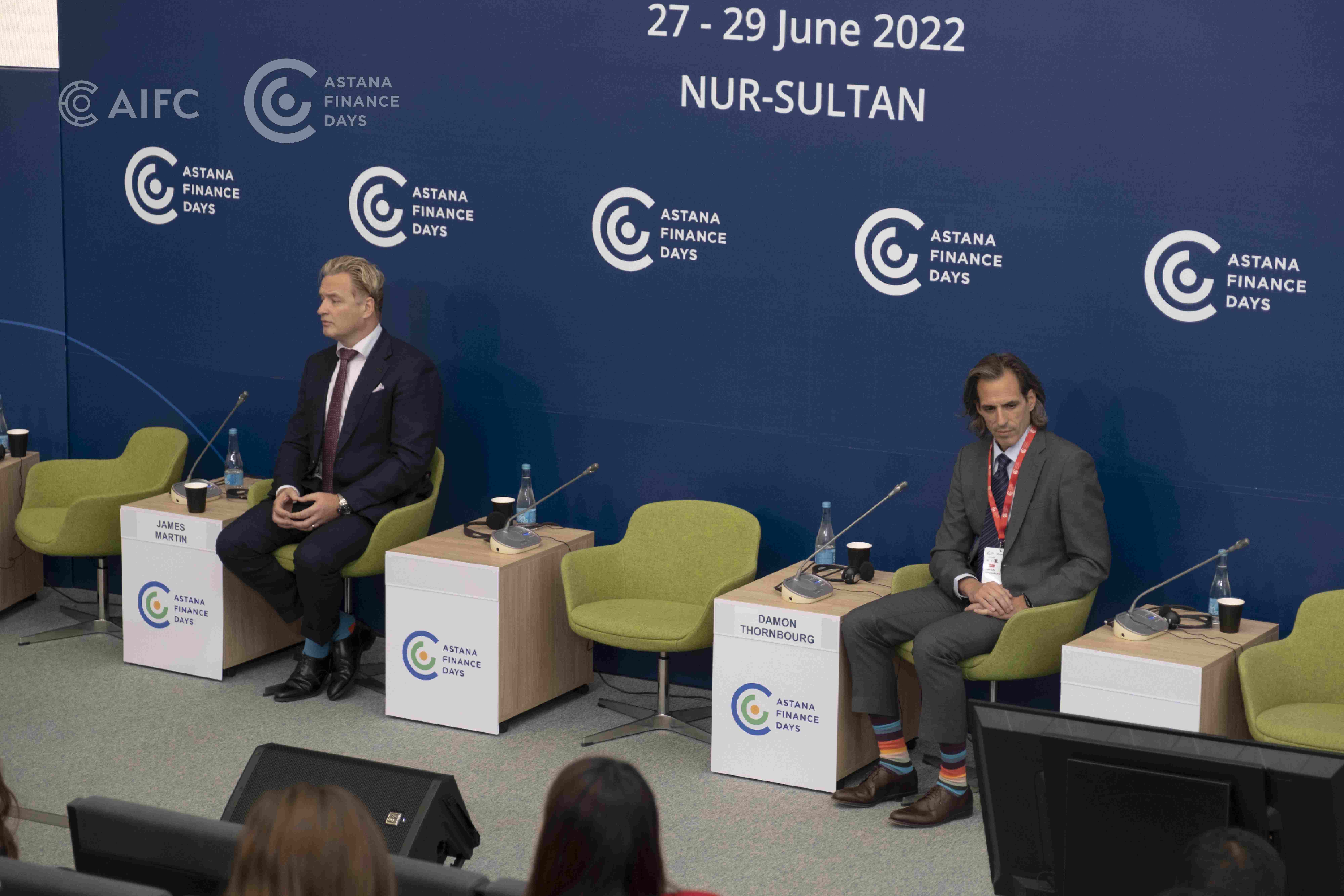 Investment opportunities arising from the global shift to sustainability in emerging markets, investment platforms and pricing of green bonds at the primary market were discussed during the panel session "Big shots. Capitalising on the sustainable investing opportunity" on June 28 within the Astana Finance Days annual conference.
The moderator of the session, which was held in a hybrid format, was Sean Kidney, CEO of the Climate Bonds Initiative. Alessandro Canta, Head of Finance and Insurance, Enel S.p.A, James Martin, AIFC Chief Investment Officer, Timothee Jaulin, Head of ESG Development & Advocacy at Amundi Asset Management, Damon Thornbourg, General Manager, Finance Chevron Eurasia Business Unit and Caroline Harrison, Head of Research, Climate Bonds Initiative participated as speakers of the session.
Caroline Harrison, the author of the ongoing research series "Green Bond Pricing in the Primary Market", revealed three main advantages of investing in green bonds during her speech. According to her research, the first advantage is that the green bonds attracted greater interest in the primary market, achieving higher book cover and exhibited larger spread compression on average, than non-green equivalents. Second, green bonds exhibit low volatility in the secondary market. Third, green bonds remain liquid which benefits the investors.
Alessandro Canta, Head of Finance and Insurance, Enel S.p.A, delivered a keynote speech and shared the company's experience as an early issuer of green bonds and the inventor and largest corporate issuer of sustainability-linked bonds. He noted that unless there is no transition to sustainable strategies, companies risk losing access to the preferential capital market. Timothee Jaulin also highlighted that green and sustainability outcome features are becoming more important for investors given the existing geopolitical crisis.
Damon Thornbourg informed the participants about Chevron Direct Investment Fund (CDIF) being set up at the AIFC platform with one of the key focus areas of the fund being environmental stewardship. He spoke about the current work of the fund and its plans to invest in projects related to sustainable development.
Sustainable bonds remain relevant tools for both asset managers and fundraising issuers. In 2021, despite ongoing uncertainty related to the pandemic and economic dislocations, the global sustainable bond market reached 159 billion US dollars nearly triple the 2020 volume. Issuances in Kazakhstan skyrocketed since 2020 as well. Current sustainable finance market in Kazakhstan exceeds 250 million US dollars with more than half of issuances being verified by AIFC Green Finance Centre.
Reference:
The Astana International Financial Centre (AIFC) is an independent jurisdiction that started operations in 2018. In accordance with the Development Strategy until 2025, the key focus of the AIFC is to consolidate as a universal platform connecting the countries of the EAEU, Central Asia and the Caucasus. www.aifc.kz
The AIFC Green Finance Centre is a subsidiary organisation of the AIFC Authority and the Eurasian Development Bank, aimed at introduction and development of sustainable finance instruments and attracting of investments in environmental and social projects in Kazakhstan and Central Asia. The AIFC Green Finance Centre supported the very first issuance of green bonds and first verified green loan in Kazakhstan. Also, the Centre introduced definitions of green finance and green taxonomy (a classifier of economic activities and projects that meet technical selection criteria) in the national environmental legislation. The new legislation provides incentives for entrepreneurs who use green finance instruments. www.gfc.aifc.kz