Freedom Finance Global PLC is a new partner of the AIFC Green Finance Centre
AIFC Green Finance Centre
07 October 2022 00:00:00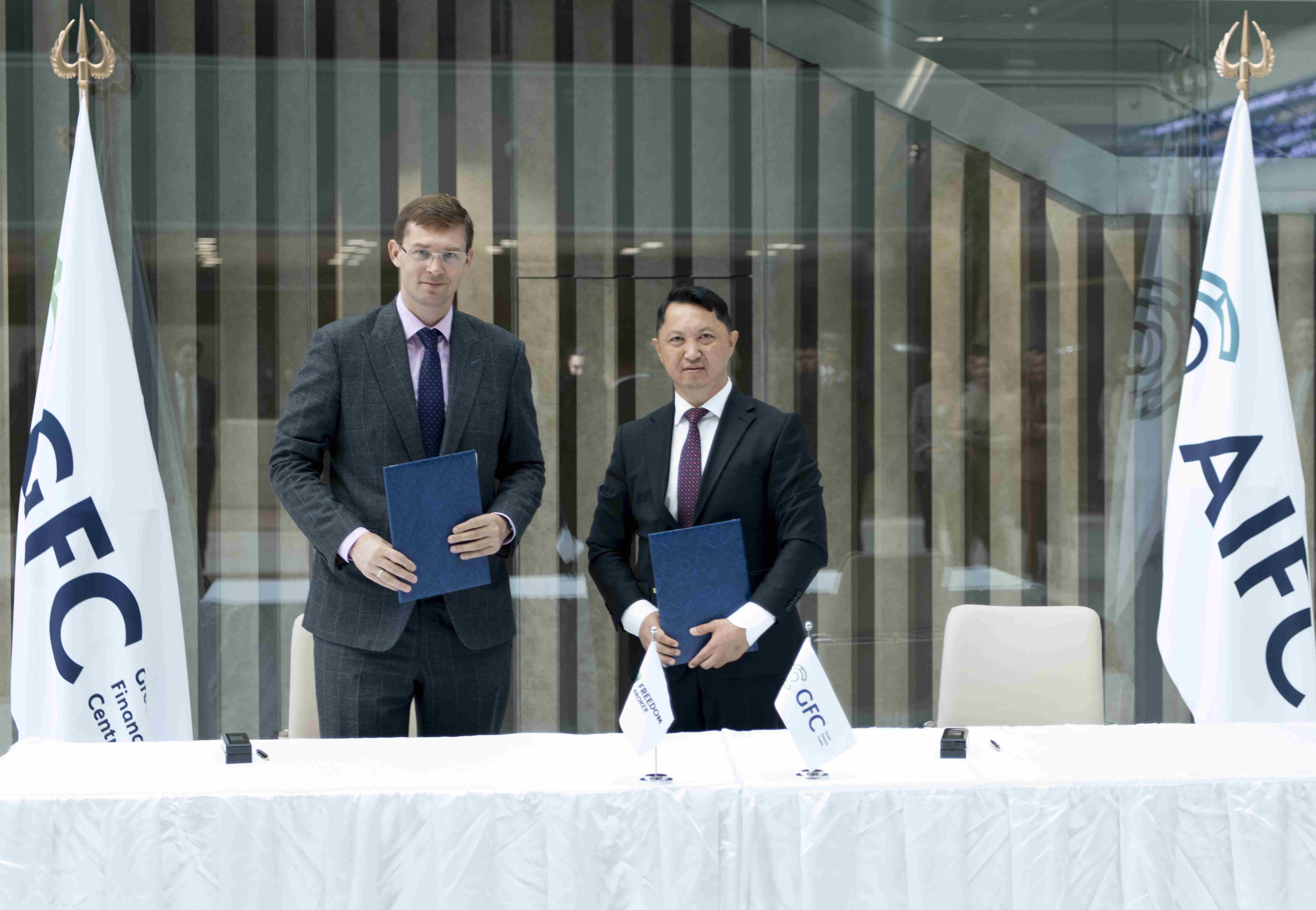 During the first ESG Investment Forum, which was held on 3 October 2022 as part of World Investor Week, a Framework Agreement on cooperation was signed between the AIFC Green Finance Centre and Freedom Finance Global PLC.
Within the framework of the Agreement, the parties will cooperate on attracting sustainable investments through the placement of green and social bonds and loans, the development of policies in the field of sustainable financing, as well as the implementation of ESG principles, including the development of strategic documents and policies in the field of sustainable development.
In addition, during a meeting with the President of Freedom Finance Global PLC Timur Turlov, taking into account the company's experience in the production of digital products, CEO of the AIFC Green Finance Centre, Chairman of the National ESG Club Aidar Kazybayev proposed to work out the issuing of the first digital ESG bond on the blockchain platform. The parties agreed to create a working group to study this issue in the nearest future.
Also A.Kazybayev accepted the official appeal of the "Freedom Finance Global PLC" to join the ESG Club, which will be submitted to the members of the ESG Club in the near future.
Reference:
The National ESG Club was created as part of Astana Finance Days 2022 on July 28, 2022 and united 19 companies that are leaders in ESG transformation in their industries. Today the Club includes 30 companies.
The Astana International Financial Centre (AIFC) is an independent jurisdiction that started operations in 2018. In accordance with the Development Strategy until 2025, the key focus of the AIFC is to consolidate as a universal platform connecting the countries of the EAEU, Central Asia and the Caucasus. www.aifc.kz
The AIFC Green Finance Centre is a subsidiary organisation of the AIFC Authority and the Eurasian Development Bank, aimed at introduction and development of sustainable finance instruments and attracting of investments in environmental and social projects in Kazakhstan and Central Asia.
The AIFC Green Finance Centre supported the very first issuance of green bonds and first verified green loan in Kazakhstan. Also, the Centre introduced definitions of green finance and green taxonomy (a classifier of economic activities and projects that meet technical selection criteria) in the national environmental legislation. The new legislation provides incentives for entrepreneurs who use green finance instruments www.gfc.aifc.kz