"ESG – a new paradigm of financial market development"
AIFC Green Finance Centre
21 November 2022 13:23:51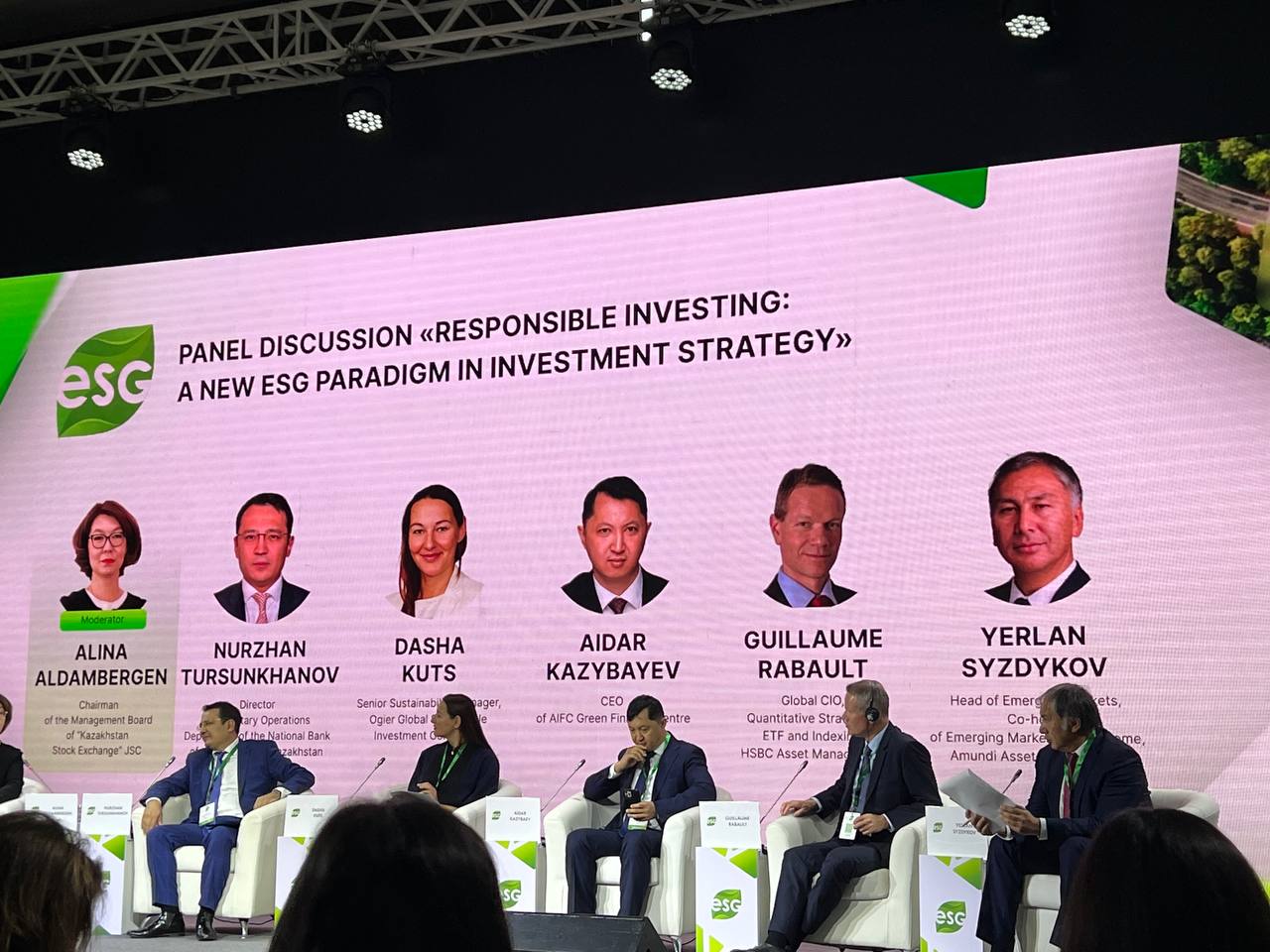 The AIFC Green Finance Centre (hereinafter referred to as the GFC), being a recognized verifier of sustainable bonds, took part in the International Conference "ESG – a new paradigm of financial market development". The conference became a platform for discussing current tools and indicators of sustainable business development, the advantages and features of attracting "green" financing and responsible investment practices.
During the speech of the AIFC GFC CEO Aidar Kazybayev at the Panel discussion "Responsible investing: a new ESG paradigm in investment strategy", it was noted that there is an objective need in Kazakhstan to create a national ESG rating. The idea is to provide Kazakhstan market participants with the opportunity to access high-quality global ESG investors and at the same time provide a tool for evaluating ESG performance regarding the national sustainable development agenda.
The national ESG rating should be based on internationally recognized, authoritative methodological bases and also have a local, regional dimension. Participation in the ESG rating can give companies several advantages, including: increasing the confidence of investors, customers and other stakeholders in the company due to the principle of transparency in the disclosure of information in reports and ratings, attracting a wider range of international and national investors, increasing the attractiveness of assets, reducing non-financial and reputational risks and increasing reputation and brand awareness at the global level.
Reference:
The Astana International Financial Centre (AIFC) is an independent jurisdiction that started operations in 2018. In accordance with the Development Strategy until 2025, the key focus of the AIFC is to consolidate as a universal platform connecting the countries of the EAEU, Central Asia and the Caucasus. www.aifc.kz
The AIFC Green Finance Centre is a subsidiary organisation of the AIFC Authority and the Eurasian Development Bank, aimed at introduction and development of sustainable finance instruments and attracting of investments in environmental and social projects in Kazakhstan and Central Asia.
The AIFC Green Finance Centre supported the very first issuance of green bonds and first verified green loan in Kazakhstan. Also, the Centre introduced definitions of green finance and green taxonomy (a classifier of economic activities and projects that meet technical selection criteria) in the national environmental legislation. The new legislation provides incentives for entrepreneurs who use green finance instruments www.gfc.aifc.kz