AIFC has maintained its regional leadership in green finance and improved its position in the global ranking
AIFC Green Finance Centre
06 May 2022 12:22:38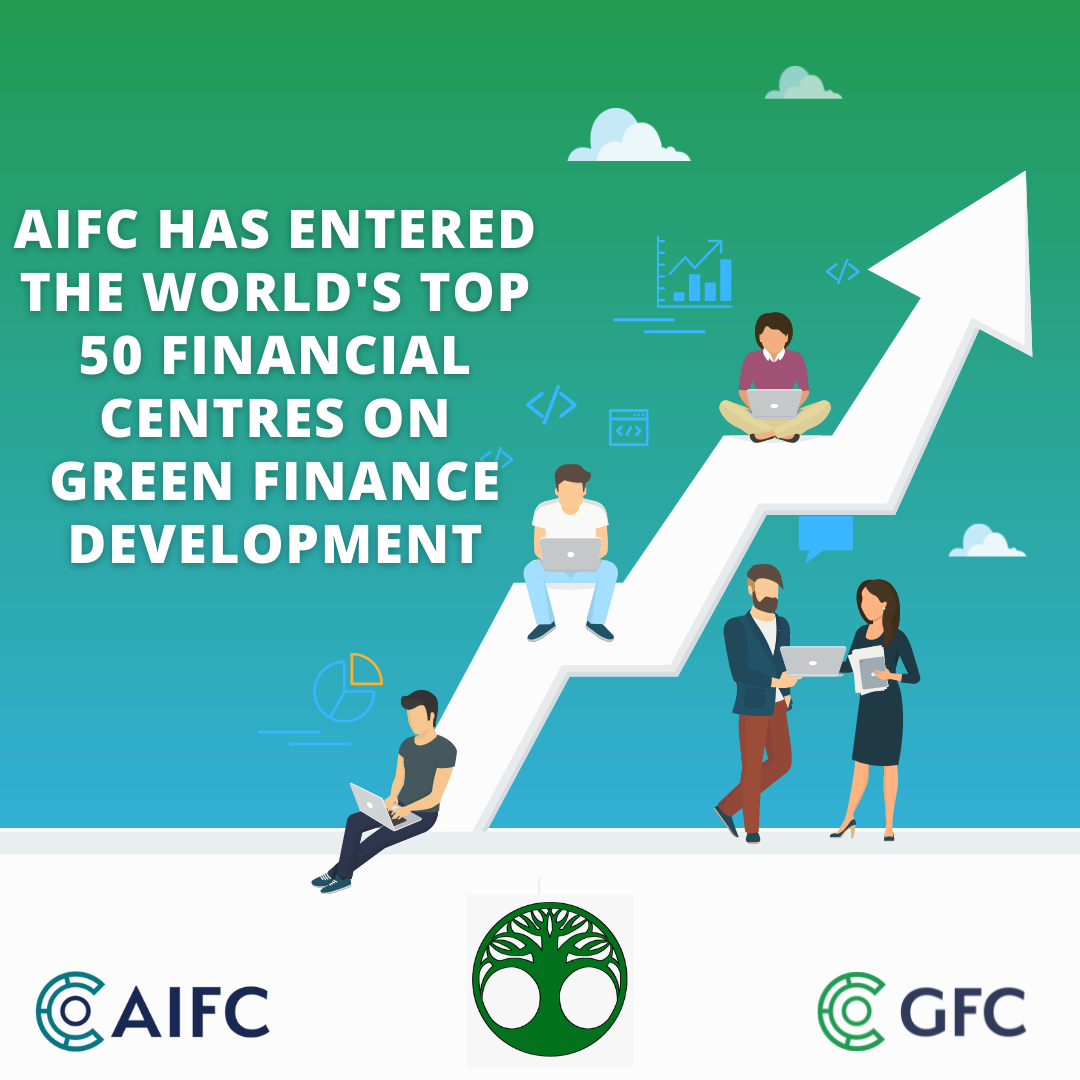 As part of the new edition of the Global Green Finance Index (GGFI 9), the AIFC has risen by another 3 positions since October 2021 (GGFI 8) and entered the top 50 financial centres in the world for the development of green finance.
Over the past six months, four major deals have been concluded in the jurisdiction of the financial centre, including social bonds issued on the AIFC Exchange for the construction of affordable infrastructure, green bonds and green loans for renewable energy projects.
External reviews provided by AIFC Green Finance Centre are recognised by London Stock Exchange for bonds traded under the Sustainable Bond Market (SBM) label. This was made possible by the inclusion of the Centre in the map of external review providers of the International Capital Markets Association (ICMA) at the end of 2021.
In addition, as part of the work to improve environmental legislation, within the framework of the national project for the development of entrepreneurship for 2021-2025, Decree of the Government of the Republic of Kazakhstan dated February 2, 2022, No. 43 approved updated measures for economic incentives for green bonds and loans, such as subsidies for coupon and interest rates, as well as a green bond guarantee mechanism.
"It should be noted that the work of AIFC Green Finance Centre in support of issuers and green and social projects had a multiplier effect on the development of the overall sustainable finance market in Kazakhstan, which currently amounts to more than $ 250 million. All this made it possible to maintain the leading position of the AIFC in the GGFI 9 rating", noted the CEO of the AIFC Green Finance Centre Aidar Kazybayev.
Reference:
The Astana International Financial Centre (AIFC) is an independent jurisdiction that started operations in 2018. In accordance with the Development Strategy until 2025, the key focus of the AIFC is to consolidate as a universal platform connecting the countries of the EAEU, Central Asia and the Caucasus.
www.aifc.kz
The AIFC Green Finance Centre is a subsidiary organisation of the AIFC Authority and the Eurasian Development Bank, aimed at introduction and development of sustainable finance instruments and attracting of investments in environmental and social projects in Kazakhstan and Central Asia.
The AIFC Green Finance Centre supported the very first issuance of green bonds and first verified green loan in Kazakhstan. Also, the Centre introduced definitions of green finance and green taxonomy (a classifier of economic activities and projects that meet technical selection criteria) in the national environmental legislation. The new legislation provides incentives for entrepreneurs who use green finance instruments.