10 new members joined the National ESG Club
AIFC Green Finance Centre
18 November 2022 14:48:32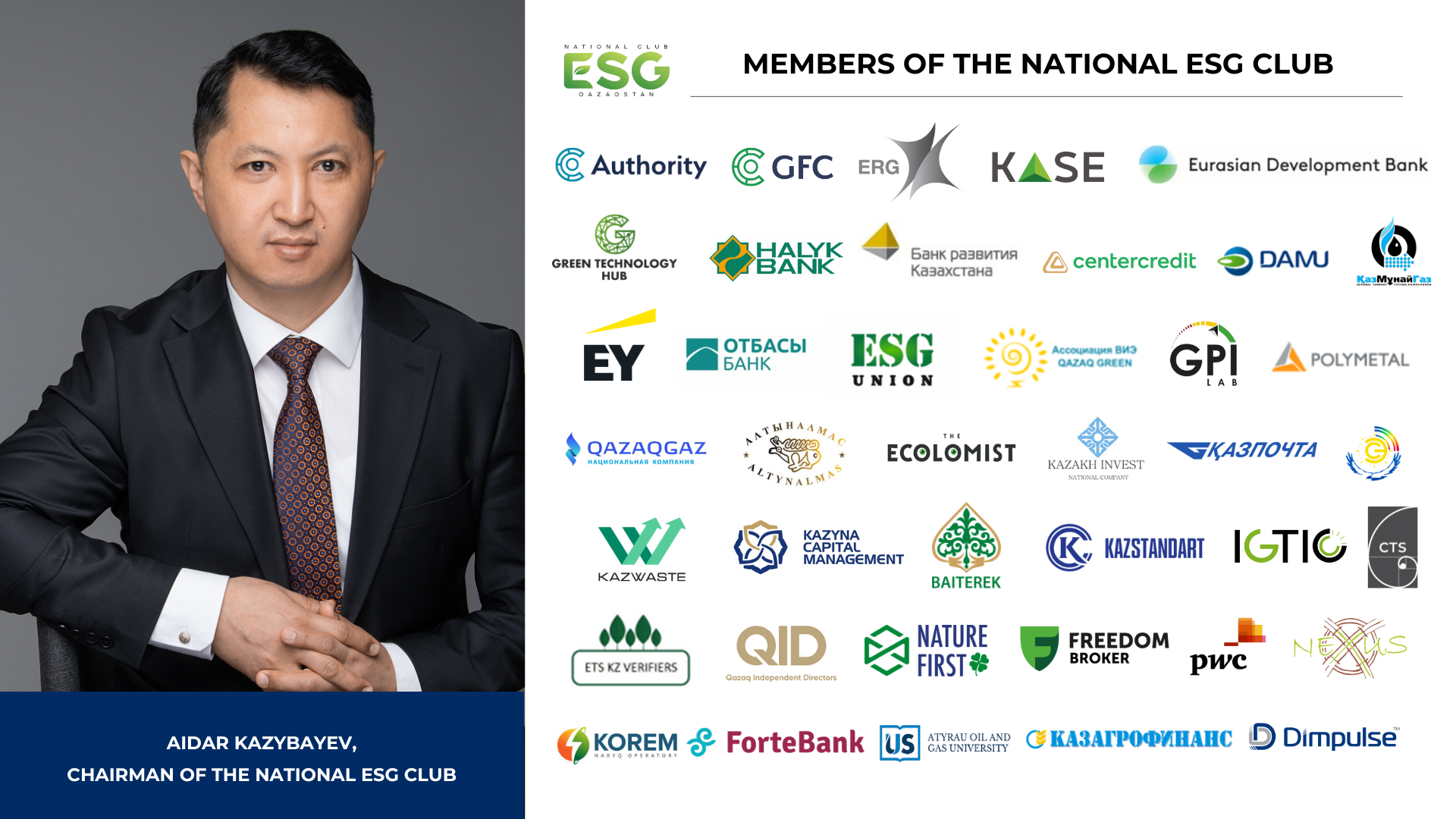 During the third meeting of the National ESG Club, ten new members were announced.
Such companies as Freedom Finance Global PLC, PWC Kazakhstan, JSC National Management Holding Baiterek, JSC Kazakhstan Operator of the Electricity and Capacity Market, JSC International Center of Green Technologies and Investment Projects, ForteBank JSC, Nexus ESG Kazakhstan, JSC Safi Utebayev Oil and Gas University Atyrau, JSC Kazagrofinance, Dimpulse Limited joined to the current members of the Club.
As a result, today ESG Club brings together 40 leading companies actively promoting the principles of sustainable development in Kazakhstan.
During the meeting, the structure of the draft of the National ESG Report was presented, which will contain the contributions and achievements of the Club members and the upcoming tasks of ESG business transformation, in addition activity plans for the first half of 2023 were discussed. At the end of the meeting, Chairman of the National ESG Club Aidar Kazybayev proposed several initiatives for organization of the annual forum called «ESG Investment Forum» and preparation of ESG Guide.
The next meeting of the Club will be held in mid-December 2022.
Reference:
The National ESG Club was created as part of Astana Finance Days 2022 on July 28, 2022 and united 19 companies that are leaders in ESG transformation in their industries. Today the Club includes 30 companies.
The Astana International Financial Centre (AIFC) is an independent jurisdiction that started operations in 2018. In accordance with the Development Strategy until 2025, the key focus of the AIFC is to consolidate as a universal platform connecting the countries of the EAEU, Central Asia and the Caucasus.
The AIFC Green Finance Centre is a subsidiary organisation of the AIFC Authority and the Eurasian Development Bank, aimed at introduction and development of sustainable finance instruments and attracting of investments in environmental and social projects in Kazakhstan and Central Asia.
The AIFC Green Finance Centre supported the very first issuance of green bonds and first verified green loan in Kazakhstan. Also, the Centre introduced definitions of green finance and green taxonomy (a classifier of economic activities and projects that meet technical selection criteria) in the national environmental legislation. The new legislation provides incentives for entrepreneurs who use green finance instruments.